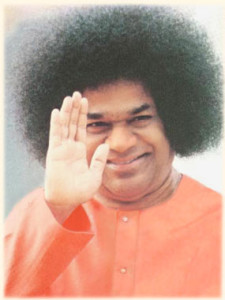 In the East Indian Hindu religion the title Baba is given to their spiritual fathers. It denotes a level of respect that not many achieve. In the eyes and hearts of their devotees the title doesn't even begin to represent the high esteem in which these spiritual leaders are held.
One of the most recent and beloved of the modern day gurus was Sathya Sai Baba. He recently passed in 2011 leaving millions mourning their loss. Although a humble man, dozens of limousines including the best party bus in town. They carried a number of his well known followers who attended his funeral. Personally I knew many followers of Sathya Sai Baba, and his influence has branched out over 178 countries with an estimated six to ten million devotees. I honor his gifts that continue to touch so many, and at the time felt a sadness for those who "lost" his physical presence when he died.
He was a great philanthropists as well as a spiritual leader and used his influence to aid others by teaching through service. His work encouraged people to take on service activities as a way to reach levels of spiritual advancement. He inspired centers for the aid of the underprivileged with over 1,200 Sathya Sai Baba branches still in existence. His network includes free schools, universities, ashrams, hospitals and clinics. In his name, clean drinking water projects have been completed, bringing fresh water to areas in dire need.
Sathya Sai Baba was born in India in 1926 and claimed to be the reincarnation of an much loved guru and saint by the name Sai Baba. While Sathya Sai Baba became known simply as Sai Baba he was born Sathya Narayana Raju. From an early age he was able to materialize objects from thin air. Suffering a near death experience from a scorpion bite reportedly brought him to a clearer state of awakening. It is told that one day, as a young man still living with his family, he wanted to show thanks to members of his household and he materialized flowers and food. His father feared he was "bewitched" and threatened to beat him. At that time Sai Baba had a coming out, declaring himself the reincarnation of the the saint who had died eight years prior to Sathya's birth.
He lived to be eighty-four years of age, and in that time endured a stroke and four severe heart attacks, a broken hip and spinal injuries. Although dead for nearly six years, to this day Sai Baba's work continues with great fervor. His spirit is undeniably alive and well demonstrating his generosity and service through his followers to the many who may otherwise be forgotten. Projects continue to unfold and complete yearly with an emphasis on ethics and human values.
Preferring not to be hemmed in with the label of Hinduism, Sai Baba's practices have been attributed with a much more vast description. Those who carry on in his name choose to be thought of as a part of an interfaith movement. They do not want to be seen as exclusionary, but as a movement that embraces all as one.
There is some controversy of Saytha Sai Baba as there is of any great force, but his good works outweigh the burden of criticism. The practice of materialization was a particular area of attack by his critics, accusing him of fraud and parlor tricks. He didn't let their harsh reports get in the way of making a huge contribution to millions of people he shared his light. The lives he has changed as a result of his philanthropic work outnumber the naysayers by thousands to one.
Did you know Saytha Sai Baba? Are you a follower or have you witnessed one of his miracles? Leave a comment below, share your experience with us.