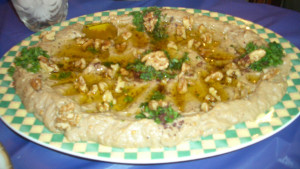 My North American readers know that on the first Monday of September we celebrate Labor Day in the U.S. and Canada. It's a day to honor working people. Although if you asked the "man in the street" it's doubtful that most would know what we really are celebrating – they're just happy to have the day off!
Nonetheless, we universally take it as a day to watch the town parade and fire up the grill and kick back with some family and friends. The day is acknowledged as the unofficial end of summer when the weather starts to get cooler and the kids are back in school. Notably, it's a time we use to bring us together for one last of the season grill session and some of our best recipes to share at the family picnic or barbecue.
This was no different for this writer as I joined my five siblings, numerous nieces and nephews, cousins, Aunts and Uncles for an end of the summer, Labor Day weekend family reunion. This was not a catered event, but rather a potluck of nearly unimaginable proportions.
Everyone brought their signature summertime dish and my sister-in-law, Leena arrived with all the ingredients to make Baba Ganoush. Being from Mediterranean ancestry her stuffed grape leaves, and her Baba Ganoush are in demand whenever she is within a fifty mile radius of a family dinner table. Since before she and my brother Jim had flown in from Ohio, it had been long established that Leena would make this unlikely picnic fare as a treat for us all to indulge. The grill was fired up and ready to roll.
There's a little more to this story. When Leena showed up prepared to make her Baba Ganoush, I shared with her my current article site on all things baba. A fun conversation ensued and more than one person came forth with something baba. Among other things, I garnered two good "baba" recipes to share with my readers.
The second is for a baba soak cake, and you can look forward to that in an upcoming article. Hopefully, Leena's recipe for Baba Ganoush will be as big a hit with you as is has been with those I know who have eaten more than they dare admit of this tummy yummy treat. Try this family favorite anytime of the year – don't wait for a special occasion to delight in this sumptuous, simple indulgence.
Our Leena's family recipe for Baba ganoush (scaled down to serve 6)
You'll need:
2 medium size eggplants
1⁄4 cup tahini, plus more as needed
1/2 head of garlic for roasting
1 red pepper – mild
1⁄4 cup fresh lemon juice, plus more as needed
1 pinch ground cumin
salt, to taste
1 tablespoon extra virgin olive oil
1 tablespoon chopped fresh flat leaf parsley
1⁄4 cup brine-cured black olives, such as kalamata
pita bread for dipping
Directions
1.  Prepare a medium-hot fire in a charcoal grill.
2.  Preheat an oven to 375°F.
3.  Prick the eggplant with a fork in several places and place on the grill rack 4 to 5 inches from the fire.
4.  Wrap the garlic head in foil and place on the grill rack
5.  Place the red pepper on grill rack
6.  Grill, turning frequently, until the skin of the eggplant and the red pepper blackens and blisters and the flesh just begins to feel soft, 10 to 15 minutes.
7.  Transfer the eggplant to a baking sheet and bake until very soft, 15 to 20 minutes.
8.  Remove from the oven, let cool slightly, and peel off and discard the skin.
9.  Place the eggplant flesh and chopped grilled and peeled red pepper in a bowl.
Using a fork, mash to a paste.
10. Add the 1/4 cup tahini, the garlic, the 1/4 cup lemon juice and the cumin and mix well.
11. Season with salt, then taste and add more tahini and/or lemon juice, if needed.
12. Transfer the mixture to a serving bowl and spread with the back of a spoon to form a shallow well.
13. Drizzle the olive oil over the top and sprinkle with the parsley.
14. Place the olives around the sides.
15.Serve at room temperature.
Hope you try this so you can say best Baba Ganoush ever! Leave a comment below, let me know what you did on your Labor Day weekend – and enjoy the rest of the summer – it's not over yet!